Limited Warranty
If a product has a defect in materials or workmanship BHJ Products, Inc. ("BHJ") will repair or replace the product. This warranty is for 90 days from the date the product is delivered unless a shorter time is stated for a particular product. Should BHJ determine that a product should be returned to the factory for inspection or repair, the customer must properly pack the product to protect it from further damage and ship it freight prepaid.

In no event shall BHJ be liable to the customer for consequential, incidental, economic, or special damages stemming from any breach of express or implied warranty

THIS IS THE ONLY WARRANTY BHJ GIVES IN CONNECTION WITH ITS PRODUCTS. BHJ GIVES NO OTHER WARRANTY EXPRESS OR IMPLIED AND DISCLAIMS ANY OTHER EXPRESS WARRANTY AND ALL IMPLIED WARRANTIES, INCLUDING THE WARRANTY OF MERCHANTABILITY.

Conditions Of Use
BHJ shall have no liability and BHJ's warranty does not apply if the Product is abused or used for a purpose other than the intended purpose or used in other than the intended manner.

BHJ shall have no liability and BHJ's warranty does not apply if the Product is not properly maintained. BHJ shall have no liability and BHJ's warranty does not apply if the Product is repaired or modified by anyone not authorized to do so by BHJ.

Limitation Of Liability
BHJ Products shall not be liable for any unforeseeable or any consequential damages arising from the use of the product.

BHJ's liability for any damages arising from use of the Product is limited to the purchase price of the Product.

Warnings
BHJ manufactures precision tools, fixtures and gauges for the automotive industry. BHJ Products are used in conjunction with products of others to repair and modify engines. The installation or use of BHJ Products and the operations in which BHJ Products are used require skill, experience and attention to safety precautions.

BHJ Products are often used in high performance engines in situations where the engines are used in extreme conditions, and at or beyond the level at which sudden and surprising failure of components is to be expected, such as automobile racing. Failure of components, including BHJ Products, can lead to dangerous situations and to damage to other property, and injury or death of the driver or of others.

IF YOU USE BHJ PRODUCTS IN DANGEROUS ACTIVITIES SUCH AS AUTOMOBILE RACING YOU ASSUME THE RISKS INHERENT IN THAT ACTIVITY AND ONE OF THE INHERENT RISKS IS THE FAILURE OF THOSE PRODUCTS.
BHJ Credit Policy
Terms for all sales are Cash, COD-Certified Check/Money Order, or Prepaid by Visa or MasterCard unless a signed credit application is on file and has been approved by BHJ. Credit applications are available for Net 30 Days or COD-Company Check OK terms.

California Sales Tax
Sales Tax will be charged for all California sales unless a Resale Number is on file with BHJ's accounting department.

BHJ Freight Policy
All orders are sent freight pre-paid and billed, F.O.B. Union City, California unless other arrangements have been made in advance. We can typically ship "same-day" as late as 3:00 PM Pacific time for "In-Stock" parts.

This map shows transit time for UPS Ground Service from the BHJ Dynamics manufacturing facility in Union City, California, to all locations in the U.S and Puerto Rico.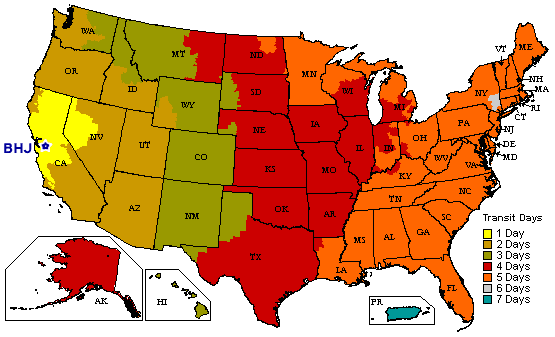 BHJ RETURN POLICY
The return merchandise policy outlined herein supercedes all prior policies, whether written or verbally advised.

Eligible Merchandise
BHJ Products and BHJ Dynamics will accept merchandise that is classified as a stock item ONLY. No custom or built-to-order items are eligible for return unless there is a defect in the material or workmanship. All merchandise return claims must be made within 30 days of the shipping date and must be accompanied by a RMA# and original paperwork.

Restocking Charge
BHJ will deduct from the return merchandise credit a minimum restocking fee of 15% or $25.00, whichever is greater, on all stock, or eligible items returned.

Credit
Credit will be issued to the customer as Merchandise Credit. No cash refunds will be issued.

Authorization Process
A return request may be made to any sales person. The information will then be submitted to the return department for review. The return department or the sales person will contact you with a Return Merchandise Authorization (RMA) Number.

All returns must be sent to the following address:
BHJ Products & Dynamics, Inc.
Attn: RMA# _____
1651 Atlantic
Union City, California 94587

Return Procedure
Once an RMA# has been issued, the merchandise must be shipped to BHJ prepaid, with the RMA# visible & accompanied by the original paperwork, in such shipping containers as to not risk damage or loss. It is recommended that the shipment be insured with the carrier of choice. The RMA# must be clearly marked on the shipping label or outside of the package. Packages not authorized for return will be refused and returned freight collect.

Shipping & Terms Of Payment
BHJ ships exclusively through United Parcel Service - All services are available. UPS cannot ship to P.O. Boxes. COD Certified Check or Money Order, Company Check (to approved accounts), Visa or MasterCard are accepted.

Refused Shipments
A credit will be issued for the cost of product, LESS restocking fee and all shipping charges. Further orders will not be processed until BHJ Products Inc. has been reimbursed for all shipping charges. To reship a refused order, the full amount of the order PLUS all refused shipping charges must be prepaid.

Claims For Shipping Damage Or Defects
Claims for damage, order errors or shortages must be made within 30 days of shipping date. Claims for defective items must be returned for review and inspection. An RMA# is required and must be made within 30 days of ship date.

CHECK YOUR PACKAGES
WE ARE REQUIRED TO FILE ALL FREIGHT CLAIMS WITHIN 72 HOURS. PLEASE INSPECT EACH SHIPMENT FOR MISSING OR DAMAGED PARTS.